The epitome of luxury for your timepieces by Boca do Lobo.
Boca do Lobo's Private Collection presents an eclectic selection of Watch Winders to keep safe your timepieces, offering an uncommon and elegant design that represents the essence of empowerment and sophistication.
Handcrafted in Portugal, these contemporary watch winders are made from the finest materials and with the most exquisite techniques, this is the result from years of continuous development and investment to satisfy the most sophisticated tastes. From the iconic Diamond to the statement Cloud these superlative pieces are perfect for high-standard watch collectors.
DIAMOND WATCH WINDER
Valuable watches are like diamonds. Lapidated like these precious gems, Diamond watch winder was sculpted from the finest materials in order to offer the perfect ambiance to the most valued collector watches while providing the best care the sensitive mechanisms of automatic time pieces require. Available in gold, silver, black and copper.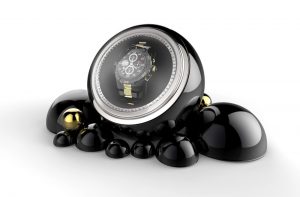 CLOUD WATCH WINDER
This unique watch winder reflects fascinating design handcrafted to become an object of desire. The fine mechanisms of valuable automatic watches require movement and relaxation. Cloud watch winder controls this rhythm in a perfect way in order to give the watch it harbors a longer life. With a design inspired by Newton's Law of attraction, this watch winder is a statement art piece.
DALI WATCH WINDER
To keep safe the most precious watches, Dali watch winder is the best gift to offer. Inspired by the surrealistic movement, it creates the safest and most resisting place to all the liquid modernity and volatility around us. This piece is made using the brass foundry technique. finished in brass and gold plating. It has six compartments to keep it well-organized and safe.
ABOUT US
PRIVATE COLLECTION
Enhancing treasures inside and out.
Treasures may come in many forms: money, books, cigars, wine, perfums, diamonds… personal gifts we enjoy to collect. In order to preserve these treasures, Boca do Lobo Studio created a new collection designed for demanding people who possess fascinating secrets and the desire to preserve them. With Private Collection, all the treasures will be safe in their own secret place, a exclusive and unique world.
BOCA DO LOBO is an exclusive emotional experience, a sense of belonging and a state of mind. We strive to encourage sensational experiences by creating beautiful pieces which are passionately inspired and handcrafted in Portugal by a staff that loves what they do; experiences which pass on the feeling of exclusivity. Our designers possess an undeniable talent for composing pieces which stir emotion in their admirers. Our artisan's wisdom, accumulated from years of experience, is instilled with love and dedication in the art that they perform. No detail or element is overlooked as we offer the best at the frontier between design and art. Each piece will bring you on a journey to sources of pleasure you may have forgotten, and take you to places you have never been before; a journey to BOCA DO LOBO world – a world of emotions.